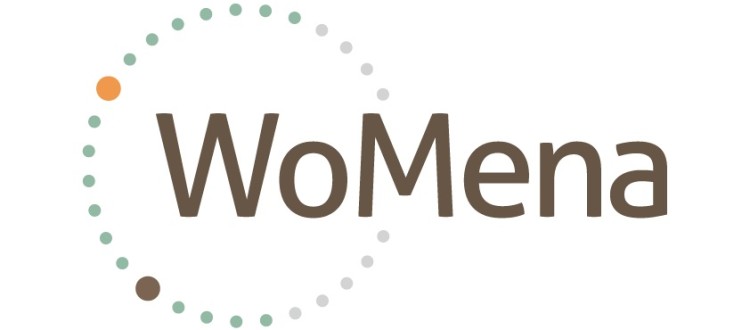 Global Research Update #17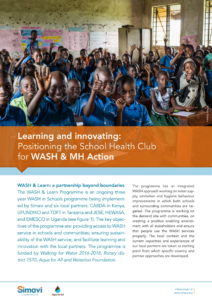 Aqua for All & Simavi (2018): Learning and innovating, positioning the school health club for WASH and menstrual health action. This paper presents the experiences of the WASH and Learn programme, particularly related to the themes of Menstrual Health, to ensure girls well-being in schools, proper menstrual waste management, menstrual hygiene, and better facility usage during menstrual periods, as well as School Health Clubs (SHC) to encourage other students and teachers within the school to apply appropriate WASH behavior.  Six steps are taken: (1) conducting a baseline survey/assessment in each school; (2) formation of SHCs or improving the effectiveness of existing clubs; (3) developing SHC leadership capacity-building, training of teachers to guide the pupils in the SHC; (4) planning the activity agenda for the SHC; (5) undertaking ten activities to achieve sustainable WASH in school; and (6) evaluating/ assessing progress. To capacitate the SHCs to implement a holistic approach, the following steps are taken: (1) sensitizing school management, parents, health club patrons, senior women and men; (2) awareness discussion with SHC members; (3) undertaking a WASH for menstruation review to make menstruation a comfortable and hygienic experience; (4) training in menstrual health; (5) training in making reusable menstrual pads; (6) training in sanitary material management; (7) creating an enabling environment; and (8) institutional engagement to advocate for menstrual health in schools and communities.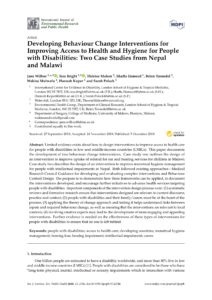 Wilbur, J et al. (2018): Developing Behaviour Change Interventions for Improving Access to Health and Hygiene for People with Disabilities: Two Case Studies from Nepal and Malawi. Case study one describes the design of context specific behavior centered interventions to improve MHM of adolescent and young people with intellectual impairments and their carers in Kavrepalanchok, Nepal. Principal components: (1a) conducting a systematic review to explore strategies; (1b) carrying out formative qualitative research to understand the specific MHM requirements of twenty menstruators with a disability aged 15-24 and the barriers they face in managing their menstruation hygienically and with dignity, twelve carers who provide support for them, and thirteen policy makers and practitioners focusing on WASH, disability and/or sexual and reproductive health; the identified key barriers were (a) limited MHM training, information and support; (b) limited ability to communicate verbally that they have pre-menstrual symptoms, to understand the reason for experiencing the symptoms, and related social norms; (c) poor access to existing MHM interventions as they are mainly delivered through school and community settings; therefore, people in this group not attending school or carers unable to leave their home because of caring duties, cannot access MHM information; (2) putting people with disabilities and their family/carers at the heart of the process; (3) applying the theory of change approach  and testing it to understand the links between inputs and required behavior change and ensuring that the interventions are relevant to local contexts; and (4) involving a creative experts team, including a local artist, a marketing professional, and people experienced in developing interventions in Nepal, working with people with disabilities, and implementing MHM programmes in the Kavrepalanchok district, and (5) in the next steps a pilot study to test the intervention components and training manual, as well as a process evaluation and feasibility study to assess the fidelity, feasibility, and acceptability of the intervention will be conducted. Then, the intervention will be adapted and/or delivered at a wider scale with carrying out an impact evaluation at the end.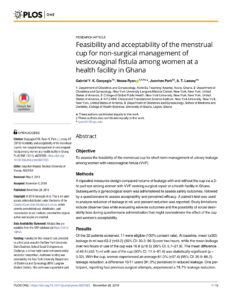 Ganyaglo, G.Y et al. (2018): Feasibility and acceptability of the menstrual cup for non-surgical management of vesicovaginal fistula among women at a health facility in Ghana. A single arm, non-randomized, repeated measures feasibility study of the menstrual cup for short-term non-surgical management of urinary leakage associated with vesicovaginal fistula (VVF) was conducted among eleven patients seeking surgical repair at Mercy Women's Catholic Hospital in Ghana to assess safety, acceptability and perceived efficacy. Findings: A mean 61%reduction in urinary leakage was observed among 91% of participants; on average, the volume of urine leaked at baseline was reduced by 46.4 ml with use of the cup. Acceptability was high as 8 out of 11 women could easily insert and remove, and all the users comfortably wear the menstrual cup and the majority (10/11) would recommend using it, and only four out of eleven users perceived adverse events, including voiding while the cup was inserted, pain with insertion or removal, and heaviness in the vagina.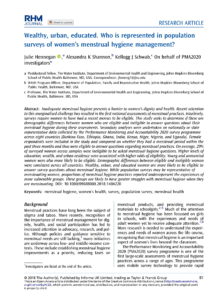 Hennegan, J et al. (2018): Wealthy, urban, educated. Who is represented in population surveys of women's menstrual hygiene management?. Secondary analyses were undertaken of data regarding the first national assessments of menstrual practices across a range of ages which was collected in eight countries by the Performance Monitoring and Accountability 2020 (PMA2020) survey programme. Therefore, the study aimed at determining if there were any systematic differences in eligibility to participate in questions regarding menstrual hygiene and if there were over or underpresented demographic groups. Findings: 29% of the full population of women surveyed were ineligible to answer questions; the pattern of results was consistent across all eight countries; and single, younger (15-19 years of age), wealthy, urban women were more likely to be eligible for inclusion; moreover, according to the PMA2020 three-month eligibility criteria, women and girls experiencing amenorrhoea were not asked survey questions, and since vulnerable women and girls are more likely to be amenorrhoeic, they are likely to have greater struggles with menstrual hygiene when they are menstruating are underpresented in population surveys of menstrual management practices, and also based on  inclusion criteria for age which was participants aged 15-49 resulted in exclusion of younger girls experiencing menarche before 15, whom may experience greater difficulties in menstrual management during this time.