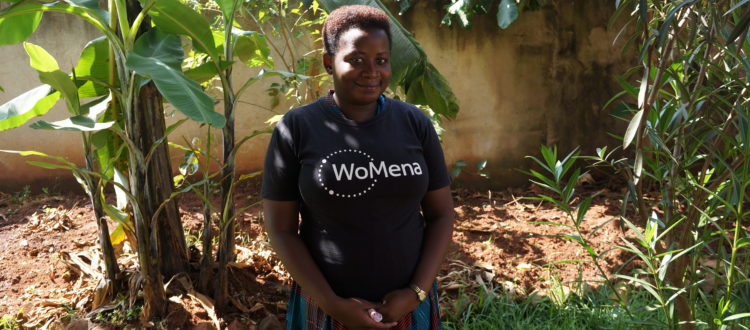 Meet the Trainers – Mukyala Pinky Theresa
In our new series we talk to the WoMena trainers who do the very important work  of delivering trainings to girls and women on menstrual health management and how to use reusable menstrual care products. First one up is Pinky, who has been with WoMena for about a year.
How did you become involved with WoMena?
I got to know about WoMena through my sister who is an advocate for women and girl child rights at a global level; she knew I had a passion for empowering girls and women. By then, I was a trainer on the concept of gender-based violence and working as an Associate Lecturer at the Institute of Social Work and Community Development in Mengo. So my sister told me about WoMena, and that they needed some volunteer trainers. I submitted my application and was later granted the opportunity, so in 2018, I became part of WoMena.
What in the work and the mission attracted you to join WoMena
For starters the kind of work that WoMena does is truly amazing: Through menstrual health management they empower girls and women. This attracted me to work for WoMena because that is exactly my passion: I envision a nation where girls and women are empowered and there are no gender inequalities, I seek to see women overcome barriers and obstacles to their economical, social and mental advancement. Different societies have norms that belittle women and kill their self-esteem, especially during menstruation which greatly affects their economical, social and mental well-being. So I was attracted to join WoMena to help women go through their menstruation with pride and dignity.
In regards to the mission of WoMena, I was attracted to join WoMena because WoMena seeks to bridge the gap between implementation and innovation by advocating for most suitable menstrual management methods. This, to me, is very critical if we are to empower women and girls because it means besides the beautiful and amazing innovations, we do a lot of advocacy to ensure that there is implementation and that the women and girls gain from it by providing menstrual cups as one of the most suitable and safe menstrual management methods.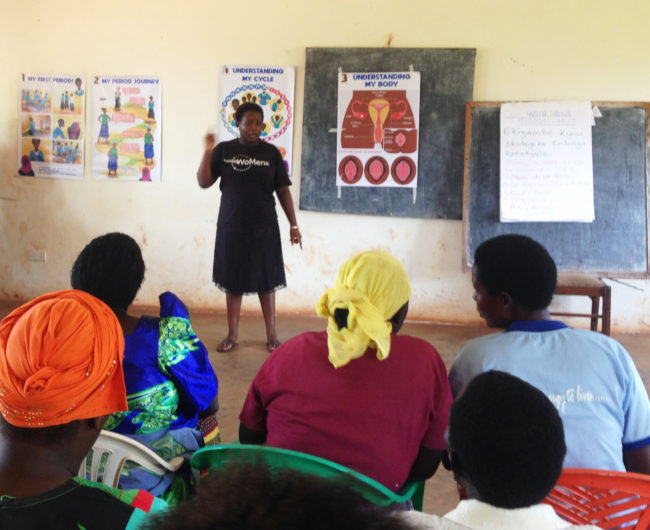 Which tasks are you performing at WoMena?
I am a volunteer trainer with WoMena, my key task is to conduct trainings on Menstrual Health Management whenever called upon. I have previously trained on the MENISCUS project in Entebbe, the Buikwe Project where we worked in four schools in Buikwe District doing training on MHM and distribution of menstrual cups; I have also worked with Afripads providing training on MHM, Ruby Life at Candle Light Foundation in Mukono among others.
How do you find the working environment in the WoMena team?
I will describe the working environment in WoMena as very conducive. I have worked with WoMena for close to a year, and I must say it's a healthy work place characterized by positive values with a positive mission statement and a productive atmosphere. WoMena is committed to excellence in line with the work we carry out.
What is the most rewarding part of working with WoMena?
Being able to have an impact on the lives of women and girls is the most rewarding part of working with WoMena. Every training conducted on MHM makes women more knowledgeable, and when we distribute menstrual cups we ensure the women have safe menstrual management products to use. For me being part of a team that empowers women and girls and helps them overcome the negativity surrounding menstruation is more than rewarding.
What are some of the more challenging parts?
Sometimes we come across people who are so bent towards their culture and religion, for example some cultures don't allow women to use safe menstrual management methods like menstrual cups, and some religions continue to discriminate against menstruating women. This becomes challenging because some parents go as far as to refuse that their daughters receive the products. This breaks my heart – especially when the girls plead to be given the products but their parents won't let them.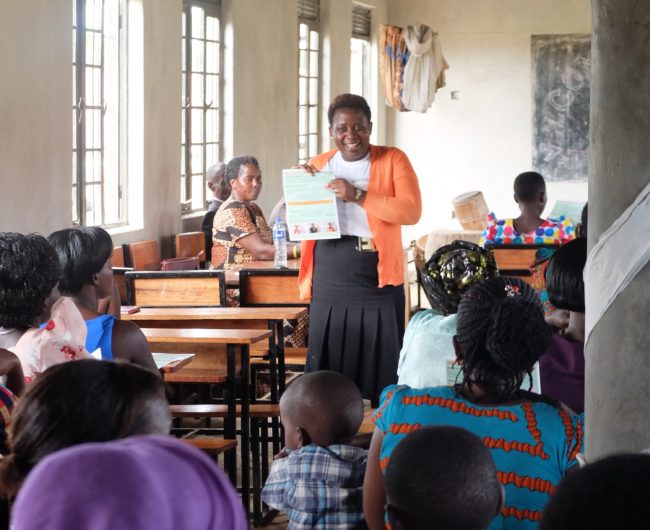 What are some of your most memorable moments working with WoMena?
When we were conducting training in one of the schools in Buikwe, I met a young girl who asked to speak to me in private after the training. I found her after the training, and when I talked to her, she actually broke down and cried as she shared her menstrual experience with me. I comforted her and encouraged her to attend all the trainings we were to conduct in the school. After the training we distributed menstrual management products including the menstrual cup. When we went back to that school, I made sure I met this young lady. She was very excited and happy to see us. Unlike before, when she was in tears and pain, she told me she had made sure to use her cup, and since then she is more confident and her self-esteem has risen. She felt so proud of herself. That was one of my most memorable moments working with WoMena.
What skills do you think you have acquired while being with WoMena?
I have learnt a lot from WoMena especially about menstrual health management. My interpersonal skills have also greatly improved, and I have acquired training, research, transcribing, presentation, report writing skills among others.