A Loving Tribute to Siri Tellier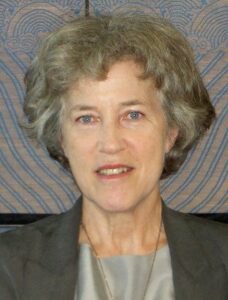 It is with immense sorrow that WoMena says a heartbreaking goodbye to our Senior Reproductive Health Advisor and fervent supporter, Siri Tellier, who passed away in October 2022.
Since WoMena's inception, Siri has been a driving force in ensuring WoMena's work and approach was evidence-based, context specific, well informed, and holistic, leading WoMena's international Knowledge Management Team while pioneering research efforts in the growing field of Menstrual Health. She also was a key contributor to WoMena's advocacy efforts and a truly amazing team player who always exuded positivity, open-mindedness, and an infectious curiosity.
Both in and outside of her work with WoMena, Siri was committed to the facts and utilizing the power they hold to progress gender equality, global sexual and reproductive health and rights, and collective action against global inequalities. For this International Women's Day 'Break the Bias' theme, we asked Siri what bias she'd like to break, to which she responded,
"I think the greatest bias is that against facts and dialogue, and that is what I try to break, through teaching and being part of WoMena's Knowledge Management Team.

 In 1990 or so, one of my colleagues at UNDP asked me what I thought the reason was that the head of UNDP, William Draper, was so keen on gender equality. And for once in my life, I had what I think was an inspired answer: 'maybe because he looked at the facts'"
In a world that seems increasingly chaotic and divided, Siri offered hope and confronted the world's issues by searching for practical solutions and empowering those around her through knowledge. She was a great source of inspiration within our team, leading with strength, devotion, and kindness.
We are in awe of Siri Tellier and the mark she left on the lives of so many. We are forever grateful for her wisdom, passion, and invaluable contributions, and we express our deepest condolences to her family and friends. She will be – and already is – missed.
With Love,
The WoMena Team
---
Some words from Colleagues
"I still admire Siri's resilience and commitment to supporting WoMena. Even at the end, she has willingly guided me and taught me continually to seek knowledge and never to stop learning. Her words to me, 'You can get better every day, do more self-improvement and you'll realize your potential. Don't feel bad about your mistakes, no one is perfect.' Rest in Peace Siri."

"Siri was energetic, an encouraging collaborator and adamant on evidence, pushing us all to do better. We feel lucky we got to share time with her. She was a pleasure to work with and she will be missed dearly."