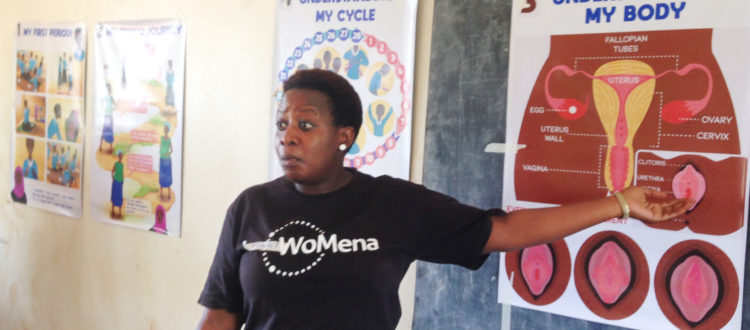 Free menstrual health training tool kit tested
Together with Ruby Life, WoMena is in the early stages of launching a tool kit that can be used to train girls and women about menstruation and how to use the menstrual cup. The toolkit will be free and available to anybody who wishes to conduct a workshop on menstrual health and use of a menstrual cup.
At the center of the toolkit stands 12-year old Susie who gets her first period while in class. She doesn't know what it is happening to her and gets very scared. The stain on her skirt also draws attention from snickering boys, and her friends are not much help as they themselves have not been told how to handle their period. Luckily, on her way home that afternoon, she sees her neighbour Leyla who comforts her by telling her, that what is going on in her body is completely normal. She also teaches her how to manage her period and introduces her to different materials she can use.
The characters of Susie and Leyla are co-facilitators in a new menstrual health training toolkit that is being developed by WoMena and Ruby Life. The characters have been invented to make the workshop material accessible and relatable to girls and women in an East African context: They take participants through subjects such as the female reproductive system, the menstrual cycle, how to track one's period as well as how to manage the different aspects of it, before moving on to the use of the menstrual cup.The goal is that when the workshop is done, the participants will have received the appropriate information and tools to help them feel more confident, comfortable and happy during their period.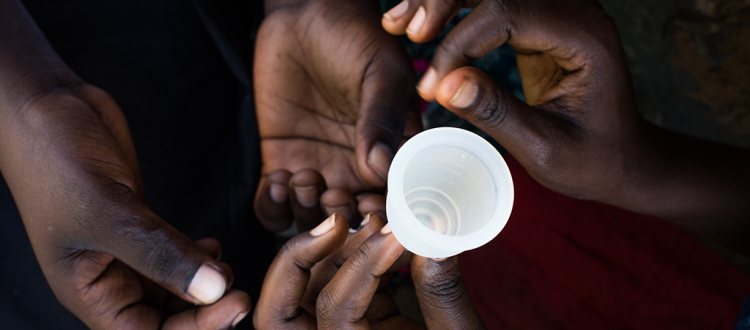 So far it has been tested by WoMena Uganda in two workshops – one for girls and one for women – in Mukono, and the feedback has been very positive. "I love what you have taught" said one women, and several others reported how they had learned valuable information about their bodies and periods. A girl remarked that she found the story about Susie and Leyla especially relatable, as she also preferred to discuss these matters with her neighbour. WoMena Uganda trainer Pinky Mukyala, who has conducted many trainings on MHM, says about the toolkit:
It is very good. The flip charts make it easy for the beneficiaries to follow the training, and they like the characters.
Besides being tested by WoMena Uganda, the toolkit has also made its debut in Kenya where our partner Golden Girls used it in a workshop recently.
The full title of the toolkit is "Me and my cup: A guide to a happy period", and it is comprised of a handbook with instructions to the trainers; 12 flip charts to use during the training; and a booklet and two posters to hand out after the training has been completed. Everybody is invited to use it and it will be available to download for free from early next year.