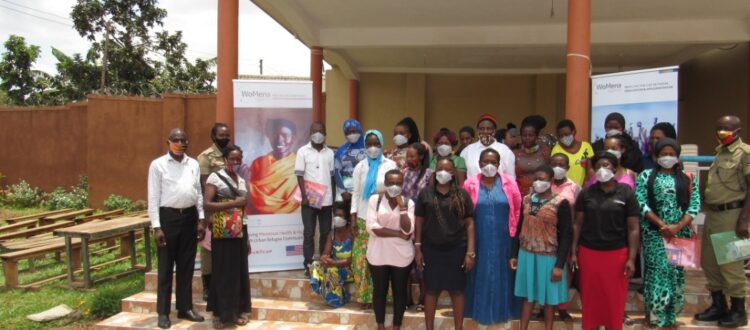 Menstrual health Management among urban Refugees – update
Menstrual health Management among urban Refugees is a project funded by the US Embassy in Uganda and implemented by WoMena Uganda with support from local partner organizations CAFOMI and Caritas. The project intends to improve menstrual health and hygiene knowledge, attitudes and practices in Urban Refugee communities, by providing adolescent girls and boys, women and men with comprehensive menstrual health education and menstrual cups as an alternative menstrual health management method to the girls. The Project is currently being implemented in urban refugee communities of Kisenyi Lubaga division and Kabalagala in Makindye.
To date, two activities have been conducted over a period of five months, August-December 2020.
The project has directly impacted 108 community members;
70% refugees these include: south Sudanese, Congolese, Rwandese, Sumarians and Burundians.
 81 Community members / stakeholders within the community 20 Male, 61 Female.
27 Trained Trainers 7 Male 20 Female.
Community sensitization/stakeholders engagement was conducted with the purpose of sensitizing the community on menstrual health management and menstrual products. This involved both male and female members in the community as agents of change to help raise awareness so as address the social taboos related to the subject. The community members received information on the project and they expressed their interest in participation by consenting and accepting WoMena to implement in the two locations.
Training of Trainers and Training of Beneficiaries
Training of Trainers (ToT) (November): A 2-days TOT for 30 community leaders, stakeholders, and girls/women's groups was conducted.  The purpose of the training was to enhance their capacity to deliver menstrual health management (MHM) trainings to young girls and women in their respective communities. Each participant at the end of the training received a menstrual cup for them or a relative to ensure they have user experience in order to offer support to the girls and women. They also received training aid for their use as they promote awareness and spread information about the project and MHM in their communities
The results from these activities indicate an impact created, as presented by the Trained Trainers that they have managed to gain knowledge on preparing and conducting MHM training, they also shared possible benefits of the intervention to the community and presented their readiness to share MHM information to the girls and women in the communities.