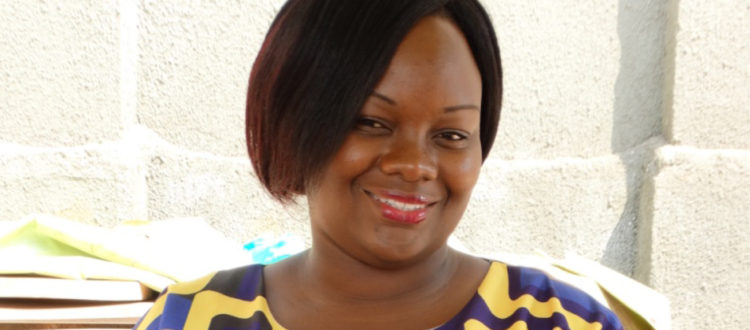 Meet the team – Diana Nalunga
WoMena's administrative assistant and trainer Diana lives in Kampala with her husband and daughter on 2 years and 8 months. She has a bachelor in Industrial and Organizional Psychology from Makerere University from 2014.

Why did you choose to work for WoMena?
First, I was a volunteer for WoMena starting in 2016. I was first working at the organization Brac and then we were taken for training in menstruation. That was when I met the WoMena training team. I got interested in what WoMena was doing. I learned so much myself at the training and realised a lot I did not know about menstruation.
Which tasks are you performing in WoMena?
I have been working as administrative assistant since July 2016. I am WoMena's contact point at the office. I am responsible for procurement, buying office supplies, responsible for mailing groups. I make sure the office is running and sometimes I facilitate trainings.
How do you find working in the WoMena team?
I find my job enriching. Before, I was a teacher at a school where you were never sure of anything. I feel like, working for WoMena, this is how work should be. Before, I was not sure I was relevant in my job. Working for WoMena makes me relevant, I know what I am going to do in my work during the day. I like the sense of order here.
What are some of the biggest challenges that WoMena is experiencing?
Cultures and beliefs. There are things that people believe in, and you cannot change that. In WoMena we explain the beliefs and what is actually the truth. For example, most girls wash their vaginal areas with soap, but they really should not do that. If someone is used to do something in a certain way, you cannot tell them to do this differently, but what we do is to explain. Languages are a big challenge as well. Sometimes we have to get translators, but that is also difficult, because the translator can change the meaning, and you will never know.
What are some of your most memorable moments working in WoMena?
It gives me satisfaction when I can teach girls how they can use menstrual cups and the girls start believing in how the training can help them. It gives the trainers satisfaction, when the girls start thinking for themselves and come back to the trainers to get a menstrual cup.
Greeting Stijn was also a very memorable moment for me. You just cannot imagine his journey biking from Belgium to South Africa, it was so different. And then you see him and he does it, even though it is hard. Our work needs funding, therefore, it is so important to have people like Stijn supporting us.
How do you think WoMena makes a difference?
We meet women who live in rural areas who tell us that when they menstruate, they pull their skirts up, and sit in the sand to let the sand soak the blood, and when they stand up, they cover the blood with sand. WoMena teach the girls and women about menstruation and sometimes we are able to give them free menstrual cups. The difference our training makes is that we create a safe space to talk about sex and menstruation.
What are your hopes for women and girls in Uganda in the future?
Women and girls in Uganda always think about others and their husbands before themselves. My hope is that the girls will start choosing themselves. In the end of the day, they are the ones menstruating, it is not the men.