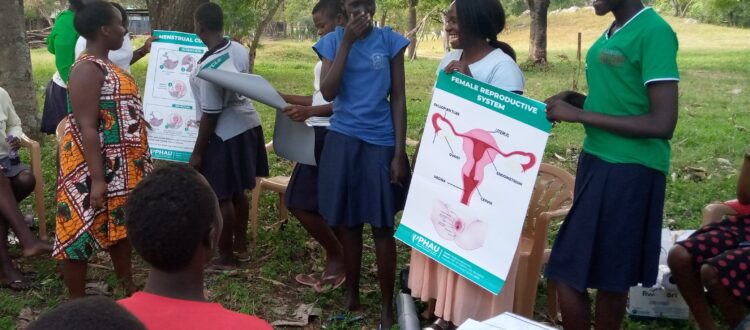 Introducing new anti-microbial menstrual cup in Adjumani District
WoMena Uganda supported the implementation of a menstrual cup pilot intervention in collaboration with Public Health Ambassadors Uganda (PHAU), Women's Global Health Innovations (WGHI) and funding from the United Nation Population Fund (UNFPA) in Alere Secondary School and Dzaipi Secondary School in Dzaipi and Alere Refugee Settlements in Adjumani District, Uganda,
The project goal was to assess the acceptability and overall impact of introducing the new anti-microbial Bfree menstrual cup.
The pilot intervention was conducted over a period of 14 months from December 2018 – February 2020 with a three-month product use period for Trained Trainers and a five-month trial period for primary beneficiaries (i.e. female students at Alere S.S. and Dzaipi S.S.). The intervention consisted of pre-intervention exploratory visits, and inception meeting with key stakeholders, training of trainers, training of beneficiaries (both girls and boys) on MHM, distribution of a menstrual health kit containing a menstrual cup, and follow-up refreshers and monitoring & evaluation (M&E) visits.
The training
WoMena and public health ambassadors Uganda trained 224 women/teachers and school girls on how to safely and effectively manage their periods with the Bfree menstrual cup that comes in three different sizes (10ml, 15ml & 25ml).
The girls and women were also taught about their reproductive health and hygiene, the menstrual cycle, tracking their period, anatomy, and managing pain during their periods.
Both WoMena and PHAU used engaging "Me and my cup" flipcharts to help participants visualize what happens before, during, and after menstruation and to also ensure they understand the proper use and care and benefits of the Bfree menstrual cup.
WoMena Uganda carried out monitoring & evaluation (M&E) activities throughout the intervention with the training and technical support of PHAU and WGHI. The quantitative and qualitative M&E tools included menstrual health management (MHM) pre-training surveys, product uptake surveys, knowledge retention tests, baseline and end line questionnaires, in-depth interviews, and focus group discussions (FGDs).
The result
The project was successful not just to girls but also to the boys in the two intervention schools. 91% of the girls involved in the project were happy with the cup taking up the menstrual cup as their preferred product at the end of the project.
Three cups proved to be a great advantage. It also benefitted relatives outside of the project scope. In one end-line focus group, discussion with 12 beneficiaries from Alere S.S. Four of the eight reported users had given one of their three Bfree cups to their sister during the school break, and all except for one girl kept the smallest cup for themselves. Another beneficiary at Alere reported she intends to use the Bfree cup kit for 30 years: "I use the small cup for now only until ten years I will use the medium size after ten years and the large one when I have delivered." Thus, the Bfree Cup Kit model showed to both improve access to products within the beneficiaries' communities as well as potentially cover the MHM needs of some for 30 years.
Male involvement was also part of the project, boys and male teachers were engaged to better understand menstrual health management and adopt responsiveness and provide support to the girls during their periods: "When I become a father in the future, I will have the information to help my daughter and wife while they are experiencing menstruation" (Male participant, Dzaipi SS)
WoMena project manager Shamira Nakalema says: "It's really significant that MHM intervention implementers don't distribute menstrual products but convoy them with comprehensive menstrual health management education. Girls need support and they need to understand what is happening to their bodies during menstruation. It's also very important to involve male teachers and boys in the school with information; this can reduce stigma, embarrassment, and indignity. I must say I am happy that girls in Dzaipi and Alere Secondary school received a Bfree cup. We don't have to worry about them during this lockdown as I am certain that they have a safe product."