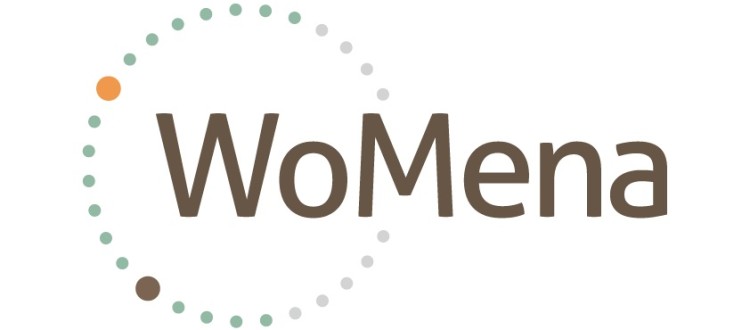 Global Research Update #9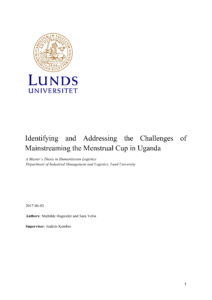 Hagander M & Velin S (2017) in their Master's thesis Identifying and Addressing the Challenges of Mainstreaming the Menstrual Cup in Uganda do a literature review and a representative single case study identifying challenges in creating demand for the menstrual cup: affordability, acceptability, and limited awareness among both women and decision-makers. Challenges in creating availability include poor infrastructure, difficulty in finding service providers willing to take on the financial risk, regulations, and lack of information. Several steps are suggested to overcome the challenges: awareness-raising (among women/decision-makers); solving regulatory issues to increase affordability and availability, involvement of influencers for advocacy, and implementation of a partial payment model to overcome barriers of a perceived high price. An incremental approach is suggested, starting in Kampala and then expanding regionally.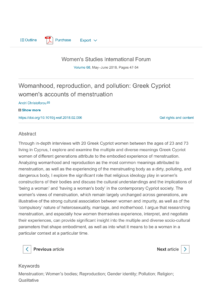 Christoforou, A reports on a qualitative study through in-depth interviews with 20 Greek Cypriot women (23-73 years) living in Cyprus: womanhood, reproduction, and pollution: Greek Cypriot women's accounts of menstruation. The study aims to explore the roles of religious ideology and the culture on women's attitude towards their bodies and their understanding of 'being a woman' and 'having a woman's body'. The author finds that women's views of menstruation remain largely unchanged across generations, indicating a strong cultural association between women and impurity and the compulsory nature of heterosexuality, marriage and motherhood.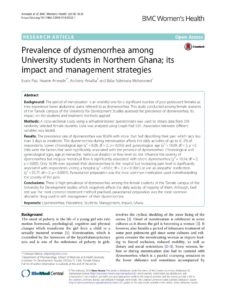 Ameade EPK et al. (2018) in a cross-sectional study including 293 female participants: Prevalence of dysmenorrhea among University students in Northern Ghana; its impact and management strategies  find that 83.6% of students experience dysmenorrhea, and that 61.2% find it causes disturbance of their daily activities. Most affected was attendance of lectures.  Reported symptoms included: pain (more than half), changes in the breasts (39.1%) lethargy (21.7%), nausea (20.1%), loss of appetite (19%), headache (18.5%), and diarrhea (15.8%). 41.2% of those who experienced pain applied no method to ease it. Of those who did, the most common was bed rest (52.8%), allopathic medicines (45.8%) (78.9% are inclined to take medications without prescription).  Lower chronological and gynaecological age were associated with dysmenorrhea; irregular menstrual flow was significantly associated with severe dysmenorrhea.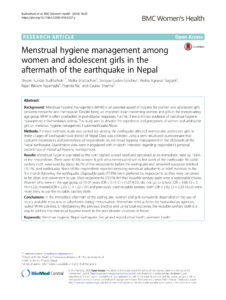 Budhathoki SS et al. (2018) in a mixed-methods study: menstrual hygiene management among women and adolescent girls in the aftermath of the earthquake in Nepal, investigates the experiences and perceptions regarding menstruation of 117 females from three villages of Sindhupalchowk district. Findings are that menstrual hygiene was the sixth highest perceived need, and listed as an immediate need by 18.8% of the respondents, yet none of the participants received MHM products as relief materials in the first month of after the earthquake. Reusable sanitary cloth (mostly made from old cloth) was used by 66.7% of respondents before the earthquake, and remained a popular choice post-earthquake (76.1%). Disposable pads were the preferred MHM product (77.8%), perceived to be clean and convenient to use, but only 23.9% of respondents actually used them post-earthquake, due to their unavailability. Reusable sanitary pads were seen by 73.5% as a sustainable choice.
Arafa AE et al. (2018) report on population-based, cross-sectional study with a sample of 4122 young girls from Beni-Sauf city: prevalence and patterns of dysmenorrhea and premenstrual syndrome (PMS) among Egyptian girls (12-25 years). They find a high prevalence of dysmenorrhea (92%) and PMS (86.3%) as well as an association between these two (girls who got PMS were more likely to experience dysmenorrhea, and its duration was longer). Risk factors for dysmenorrhea and PMS were found to be increased gynaecological age.  The most common symptoms were backache (63.3%), generalized aching (62.4%) and nervousness (43.5%). Family members (71.9%) were the main source for seeking information. For pain relief, more than half of girls drink herbal fluids and/or taking analgesics.