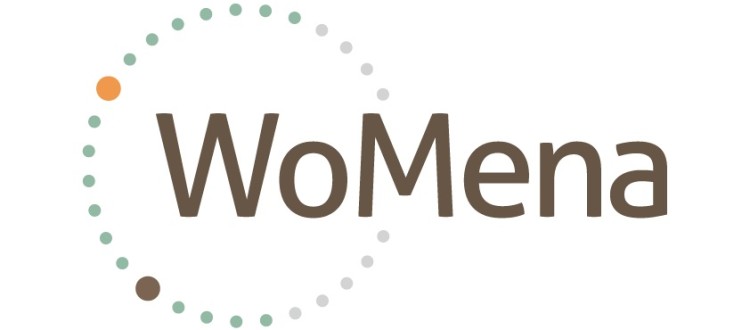 Global Research Update #13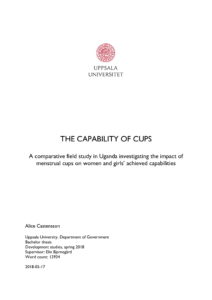 Castensson, A (2018) in her thesis: The Capability of Cups: A comparative field study in Uganda investigating the impact of menstrual cups on women and girls' achieved capabilities has interviewed and compared two groups of women and girls – one in which everyone is using menstrual cups, and one in which everyone is using pads or cloths in order to assess which group achieved higher levels of capabilities. The results show that capabilities to a larger extent are achieved among the women and girls using menstrual cups than among those using pads or cloths. Moreover, obstacles to capabilities were predominantly present in the second group. The findings thereby support the theoretical argument, demonstrating that the use of menstrual cups removes obstacles – positively impacting capabilities. This highlights the importance of considering MHM as a key aspect of sustainable development.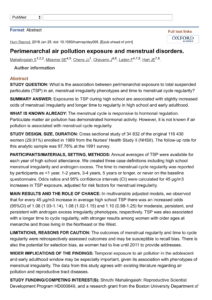 Mahalingaiah, S et al. (2018) in a cross-sectional study of 34832 female nurses of the original 116430 participants of a prospective cohort aged 25-42 years enrolled in 1989 in the US: Perimenarchal air pollution exposure and menstrual disorders with the objective of examining the association between perimenarchal total suspended particulates (TSP), menstrual irregularity phenotypes (including androgen excess), and time to cycle regularity in the Nurses' Health Study II (NHSII) found that exposures to TSP during high school are associated with slightly increased odds of menstrual irregularity and longer time to regularity in high school and early adulthood. TSP was also associated with a longer time to cycle regularity, with stronger results among women with older ages at menarche and those living in the Northeast or the West. The authors suggest conducting further studies to provide more detailed exposure assessment of size fractions and compositional analyses combined with prospective collection of pubertal and menstrual characteristics.