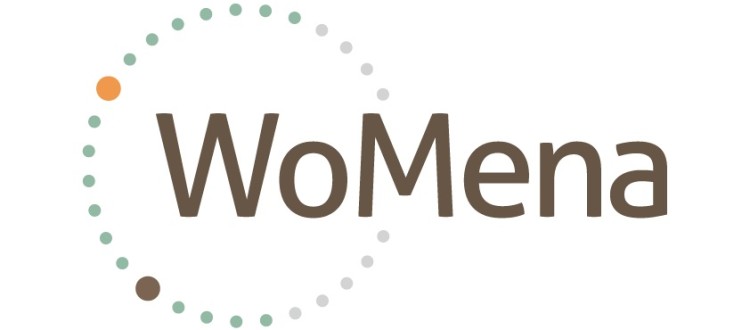 Global Research Update #11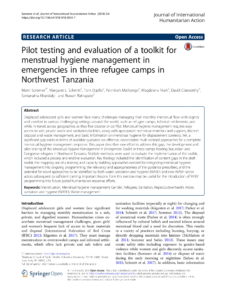 Sommer et al. (2018) in a multiple methods study: pilot testing and evaluation of a toolkit for Menstrual Hygiene Management in Emergencies in three camps hosting Burundian and Congolese refugees in Northwest Tanzania find many positive results. Training at both the onset and throughout the duration of the toolkit pilot was of critical importance. Development of a trainer's guide would be useful. Cross-sectoral including non-WASH actors helped avoid the perception of MHM as a standalone activity which required additional work or new ownership, and was an eye-opener to many participants from various sectors. Waste disposal was one the areas with least change, and very problematic (surrounded by taboos, causing blockage of latrines or toilets). The authors also conclude that higher-level buy-in (such as cluster leadership level) would be important in further implementation.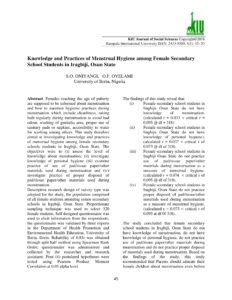 Oniyangi and Oyelami (2018) in a descriptive research study of 320 female students attending senior secondary schools in Iragbiji, Osun State, Nigeria: Knowledge and Practices of Menstrual Hygiene among Female Secondary School Students in Iragbiji, Osun State found that students do not have adequate knowledge of menstruation or of personal hygiene, do not adequately use of pad/tissue paper/other materials during menstruation or properly dispose of materials. The authors recommend parents, teachers and health educators get involved in educating girls about menstruation and breaking the silence, and that government reduce tax on menstrual products and make it very affordable for females.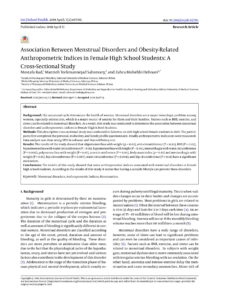 Rad et al. (2018) report on a descriptive cross-sectional study of 200 high school female students in Sabzevar city, Iran: Association Between Menstrual Disorders and Obesity-Related Anthropometric Indices in Female High School Students: A Cross-Sectional Study. The findings indicate significant associations between menstrual disorders (metrorrhagia, oligomenorrhea, hypermenorrhea, hypomenorrhea, menorrhagia, polymenorrhea) and obesity indices (weight, arm circumference, BMI; waist circumference; hip circumference). No significant relationship was found between age, age of menarche and menstrual disorders including metrorrhagia, oligomenorrhea, hypermenorrhea, hypomenorrhea, menorrhagia, polymenorrhea.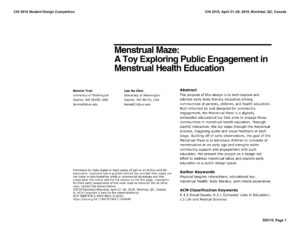 Tran and Choi (2018) use a digitally embedded educational toy which is a playful interaction, going through the menstrual process, triggering audio and visual feedback: Menstrual Maze: A Toy Exploring Public Engagement in Menstrual Health Education. 7 children aged 4-9 years and 6 parents interacting with the maze were observed and interviewed. Four themes emerge: (1) Positive parent-child physical engagement (2) Content may be too abstract or complex, (3) Adult prompting may lead to more child engagement with the content, and (4) Parents varied in levels of comfort and engagement.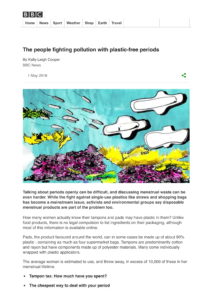 Kelly-Leigh Cooper on BBC (2018): The people fighting pollution with plastic-free periods reports on the damaging impact of disposable menstrual products on the environment and introduces environmentally-friendly alternatives such as Menstrual Cup as a solution and mentions how reusable products as sustainable options could help women and girls in developing countries as well as countries where prices of products have escalated.