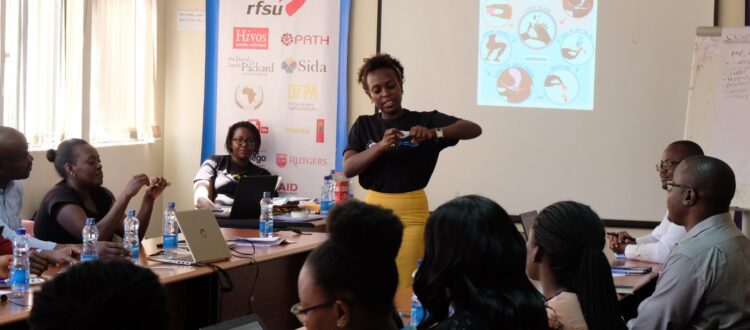 Meet the Trainers – Priscilla Nansubuga
For part two in our series 'Meet the Trainers', we get to know Priscilla Nansubuga, nurse by profession, feminist by passion and a WoMena trainer since 2017. Priscilla lets us in on work tasks, her most rewarding moments and some of the more unexpected aspects of working for an intercultural organization.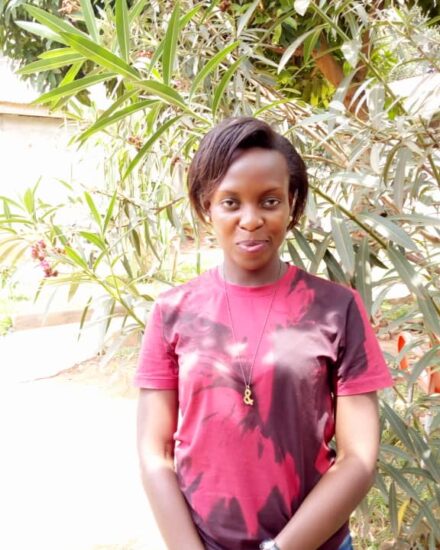 How did you become involved with WoMena?
I saw the Ensonga project of PHAU[1] on my friend Diana's Facebook wall and I was desperate to join them! Unfortunately, they didn't have any spots open but lucky for me, she connected me to WoMena.
What in the work and the mission attracted you to join Womena?
Without even knowing it, I have always been a feminist and wanting to do something to change a thing or two in the life of a girl and a woman. Women and girls being WoMena's main target group I was immediately hooked.
What tasks are you performing at Womena?
For the last two years I have been volunteering with WoMena as a Menstrual Health Trainer. I have also been working as a research assistant in data collection activities and been fortunate enough to also collaborate with different partner organisations on implementation of their reproductive health methods.  I also do awareness creation for the various reusable menstrual management products such as reusable pads and menstrual cups.
How do you find the working environment in the Womena team?
It's an inspiring and lively work environment.  The ladies I have been privileged to work with are so passionate about what they do that they make even the hardest tasks seem easy and fun. The work ethic inspires and dazzles me all the time!
What do you find most rewarding about working with Womena?
Each time we go for evaluation exercises and find out that the work we are doing changed someone's life in one way or another warms my heart so much that I don't ever want to stop. Also, I get to travel! I can gladly say that at my age I have seen a greater portion of my country than many people will ever get to do! WoMena being an intercultural organization I have also met people from various parts of the world and learnt so much about them. I have also earned myself some really cool exotic names (laughs).
Such as…? We are curious now!
Ok, there are two. Myrsky, which means storm in Finnish, and Liv meaning life in Danish.They were given to me by my Scandinavian colleagues as we were joking around. Why they choose those names? I think it's pretty self-explanatory! (Laughs).
What are some of the more challenging parts about your work?
The way our society understands and perceives virginity makes some products, like the menstrual cup, not as acceptable as they should be. It can be challenging to promote the use of them in more rural areas of the country.
What are some of your most memorable moments working with Womena?
Well I have a dramatic one but with a happy ending. Once, while on a project in Yumbe[1] there was a local uprising against a national authority body, but some people decided to attack NGOs as well. I had gone for a meeting at the Plan international office when the situation escalated, and we started hearing gunshots. We quickly reunited the team and left the district and due to safety reasons, our operation was cancelled. BUT we returned later, when things had calmed down, and completed the project successfully. We don't just quit!
What skills do you think you have acquired while being with WoMena?
I have enhanced my communication skills, gotten better computer, as well as, data collection and research skills etc. I'm still learning and I'm hopeful and optimistic about the future. Both for WoMena, as an organization, and for my own personal growth as a trainer and a feminist advocate!
Thank you for sharing Priscilla! Keep up the good work, you are truly amazing!
[1] Yumbe District is a district in the Northern Region of Uganda
[1] The "Ensonga" Campaign was a one-year project launched in June 2015 by Public Health Ambassadors Uganda (PHAU). The project aimed to improve Menstrual Hygiene Management (MHM) among school going adolescent girls through improved access to Water, Sanitation and Hygiene (WASH) facilities within primary and secondary schools in Wakiso District.