Menstrual Health in East and Southern Africa: Key Highlights & Recommendations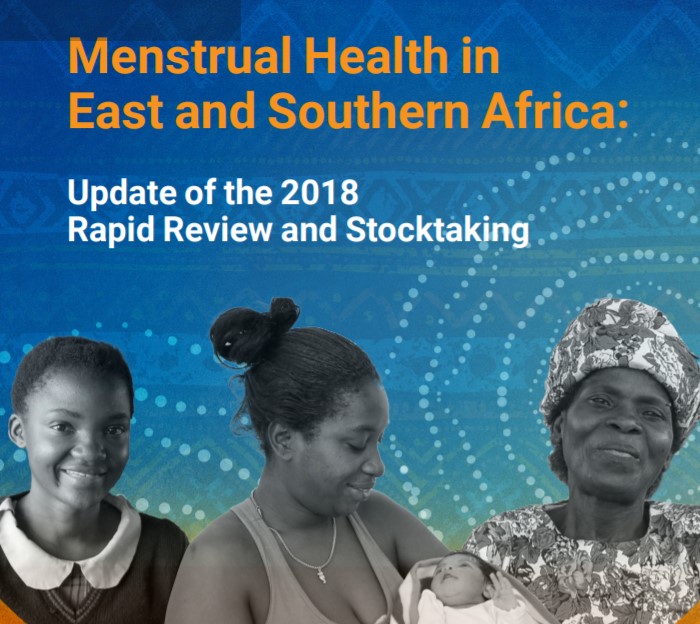 We are so excited to announce a new WoMena Publication!
In 2018, UNFPA East and Southern Africa Regional Office initiated and hosted a regional Symposium on menstrual health. The intent was to draw attention to the importance of menstrual health in reaching the Sustainable Development Goals, as well as more generally in Sexual and Reproductive Health and Rights),  WoMena was commissioned to write a review paper on some of the key issues, highlights, successes and challenges, with a specific focus on East and Southern Africa. In 2021, UNFPA arranged a follow-up Symposium, and again asked Womena to undertake a  rapid review, to take stock and document progress made in ESA since 2018 Menstrual Health Symposium in South Africa, including at country level, and with the additional purpose of assessing and documenting the impact of the strengthened advocacy through the African Coalition for Menstrual Health Management. The WoMena 2021 Menstrual Healthy Symposium presentation on the review paper can be found here. 
So what were the key findings and recommendations?
The Menstrual Health (MH) field has continued to move rapidly since 2018, particularly in East & Southern Africa, from mostly small scale pilots, many undertaken by NGOs, to the beginnings of scaling up. For the progress to continue, governments need good data on cost-effectiveness and global guidance such as human rights and the SDGs.
The concept of menstruation: Menstruation has often

been referred to as 'menstrual hygiene management'. One step forward is that there is now growing consensus that it should be referred to as 'menstrual health'. This was a major purpose of UNFPA's 2018 Symposium. In April 2021, a consensus was reached to use the term 'menstrual health' which includes the operational components of products, education, Water and Sanitation facilities, referral for health services (e.g. related to pain), positive social norms and laws. This entirely aligns from WoMena's approach from its beginning in 2012, which advocates referring to physical, mental and social health, situated within the field of reproductive health. 

Menstrual health is increasingly being recognized in human rights fora. Several human rights resolutions already exist, identifying menstrual health as a human right, with the most comprehensive from July 2021.

 This means governments, NGOs and others can use this in their monitoring and reporting on human rights, e.g. through the so-called 'universal periodic review'. 

The Sustainable Development Goals (SDGs) mention menstrual health indirectly (e.g. setting standards for toilets in schools). However, a major milestone was reached in 2019: at the review for the ICPD (International Conference on Population and Development), menstruation was included for the

first

time. Many commitments from governments were made, providing a good opportunity to follow up on those commitments.'

Evidence: There is much new evidence, but more on the problems than the best practices. The Rapid Review notes that there are many calls for better evidence  on cost effectiveness (for scaling up and sustainability) as well as environmental impact. Both the 2018 and 2021 reviews note the importance of addressing menstrual ill health (e.g. dysmenorrhea) and It also recommends to make use of existing monitoring tools, such as the International Classification of Disease (ICD-11) which makes extensive references to menstrual disorders.
Products: The Rapid Review in both 2018 and 2021 notes the importance of products. There has been an increase in attention, e.g. technical consultations. The African Coalition for Menstrual Health Management has advocated for menstrual products to be included in UN agency catalogues, tol  promote safety and favourable prices. WoMena in particular has advocated for this since 2016. This will now hopefully be a reality in September 2021. However, the Review recommends further work in order to reach the goal of informed choice (i.e.evidence based comparisons of products)
Finance: In 2018, there was little emphasis on financing, possibly because most projects were small-scale. However, as governments begin to scale up, this becomes increasingly important. Both in 2018 and 2021, the importance of public-private partnerships is noted, as the commercial sector can play a major role in scaling up. The Review suggests using the WHO framework for health systems financing.
People in Humanitarian and other vulnerable situations: The theme of the SDGs is 'leaving no-one behind', but some groups are particularly vulnerable. The report notes that the humanitarian sector was one of the first to recognise and respond to menstrual health needs. Moving forward, the major challenge for the future is to further clarify the responsibilities for response within the humanitarian system. Also, there is need to identify the very different situations of other vulnerable groups, e.g. people with disabilities. WoMena has worked in more than 100 different settings, with one purpose to map these different situations.
COVID-19: small scale studies indicate that poverty has increased, products have become less accessible, and the frequency of violence and disputes has increased over potential product costs and privacy for menstrual hygiene. Many organisations have pivoted to try to address these difficulties (e.g. mobile services), but COVID-19 still remains an issue affecting menstruating girls and women. WoMena contributed rapid assessments and solutions during Uganda's national lockdown in 2020.
The African Coalition for Menstrual Hygiene Management has grown rapidly over the period, with a doubling of membership, and has established itself as an influence on the continent, though it still faces challenges with a lack of funding and capacity. The Review suggests to focus on 2-3 areas: policy scale-up for countries which are ready for this, community of practice to allow members to share experiences, and possibly communicating research. 
WoMena is honoured to have been commissioned by the UNFPA East and Southern Africa Regional Office to author the 2018 and 2021 reviews. We would like to express great thanks to UNFPA, both for its deep commitment and initiative to undertake these Symposia, but also for the meaningful partnership in developing ideas, facilitating access to documentation and contacts, and of course, financing.

We also express thanks to the many key informants who provided great insight and contributed to many of the above achievements.