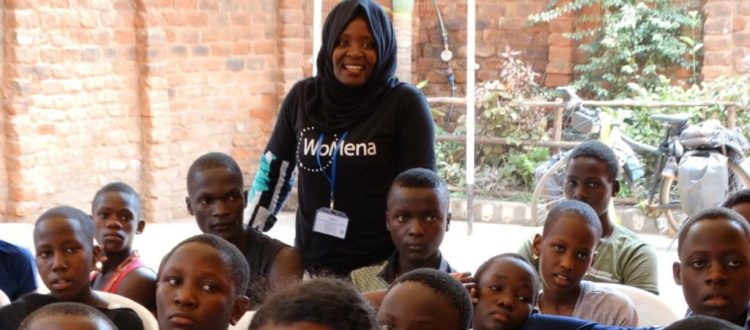 Meet the team – Nakalema Shamirah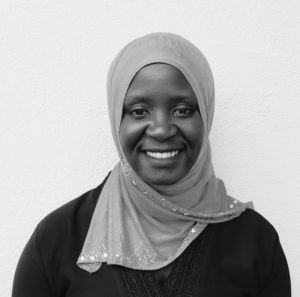 Today we are speaking to our training Coordinator Nakalema Shamirah. She is Ugandan, 28 years old and mother of two boys. 
How did you become involved in WoMena?
It is a long story but I will try tell a brief version. After my University Degree, I worked as volunteer/ intern with Reproductive health Uganda (RHU) for about one year and during my internship we got two Swedish ladies from the university of Gothenburg who wrote a thesis about the work of the Moon light stars and their communities with SRHR education. While carrying out their research they conducted interviews with the women and the girls in different communities around Bwaise in Kampala and found that many women and girls in that area had challenges managing their menstrual periods. They then started a project known as menstrual cups in Uganda and I was made part of a team which began distributing reusable menstrual cups to the girls in those areas and other parts of the country. Later WoMena got in contact with us to develop a training curriculum on menstrual health and menstrual cup (MC) training. In fact I did not have permanent job back then and I was still volunteering with RHU. WoMena called me for its first ever training on menstrual health management (MHM) and menstrual cups in October 2015. Since then, I have worked my way from a volunteer, to a Lead Trainer and Project officer to now a Training Coordinator
What in the work and the mission attracted you to join WoMena?
Research and advocacy for improved menstrual health in Uganda is the most interesting part of WoMena's work. The work that improves the reproductive health and particular menstrual health for Ugandan women is extremely rewarding. WoMena's work includes bridging the gap between implementation and innovation by advocating for the most sustainable menstrual management methods such as the menstrual cup.
When I am in the field conducting training, I know I am creating change and impacting the people I am sharing my knowledge with. Before providing any information to our target group, a lot of research is done on a particular topic to ensure quality deliverance and comprehensive menstrual health training. This is done in every activity that we do as an organization and I really like the fact that I conduct the training with the most accurate information. This makes me never want to leave WoMena!
Which tasks are you performing in WoMena?
I have been a Lead Trainer, Project Officer and now the Training Coordinator. My role is to ensure effective training deliverance across all WoMena projects by coordinating and conducting training, developing training programmes, developing different training materials depending on the context and with support from the project team. I also coordinate the Reproductive Health Supplies Coalition (RHSC) MHM work stream as a co-chair and I manage and coordinate the training team and the activities. I ensure coordination between the projects and delegating responsibilities to trainer and I support continuous recruitment of trainers and conducting internal training to the training team. I have also coordinated and conducted the  MENSICSUS 2 project training, follow-ups and the Drama skit activities among others.
How do you find the working environment in the WoMena team?
I have been with WoMena for three years now and to tell you the truth it is a learning environment. The fact that we work with people with different backgrounds and from different countries, everyone comes with their belief's, norms and experience, so there is a lot to learn from them. There is a lot of team effort in WoMena, and this helps one to accomplish tasks on time. But the best working environment is when I am in the field busy working and creating an impact to the beneficiaries – I always enjoy those moments. All in all the working environment in WoMena is good.
What is the most rewarding part of working with WoMena?
Due to the nature of my work, I am almost always in the field and I always feel happy when I am able to have an impact in the communities I work in; not only by distributing MHM knowledge but also by standing up and giving evidence-based information. I am proud that when I talk to people with different backgrounds on MHM, and even to the professionals, and they have less information on menstruation and their reproductive anatomy, I am able to give them new knowledge and improve their understanding. It is really rewarding to always share information on reproductive health and particularly on menstrual health management. Sometimes the people will even refer to you as a doctor yet you are not.
What are some of the biggest challenges that WoMena is facing?
In most of the contexts where WoMena operates in Uganda talking about menstruation is a taboo. My religion says that a menstruating woman is dirty and not meant to conduct prayers while in her menstrual periods. Talking about menstruation among men, prominent  leaders and more so convincing people to accept the use of the menstrual cup, which is a new product that is inserted in to the vagina to collect blood is really a challenge because cultures and religions and people in Uganda value virginity and the hymen so much, because according to them it is the only proof that a girl has never had sex.
What are some of your most memorable moments working in WoMena?
My first experience of working in a refugee settlement and seeing refugees was when WoMena implemented a project in the Rhino refugee settlement in Arua. Seeing the difficult situations that the refugees live in and how they manage their lives, how they suffer and the unpleasantness of their situations impacted me greatly. A lot of them do not have parents and even the very young ones are forced to live on their own. While discussing with a few girls after a training,  one of them told us how she got married because she thought the man would provide all that she needed including buying her pads. She was just 17 years old with 3 children and at some point I felt like crying.This gave me courage to continue with the kind of work that I am doing. As an organisation WoMena works in line with my personal interests and I enjoy every moment when I stand up and say something to improve someone's life!
Thank you Shamirah!