Menstrual hygiene management/menstrual cup Radio Programming Lira (Uganda)
Overall objectives of the project:
1. Educate Radio Wa followers on menstrual hygiene management, including on different MHM methods and how to safely and effectively use them;
2. Engage the communities (both men and women) in discussions on menstruation; deepen their understanding on how it impacts girls, women and their families; address related stigmas and taboos; and create open spaces for talking positively about menstruation;
3. Provide a sustainable MHM method/menstrual cups for Radio Wa female staff.
Target groups/beneficiaries:

Radio Wa followers and Radio Wa female staff
Expected outputs:
1. Comprehensive radio programming scripts;
2. Report reflecting comprehensive design of the intervention and recommendations regarding scale up to other radio partners (max 20 pages excluding annexes)
3. Comprehensive training materials and training of Radio Wa staff
4. Monitoring, baseline and end line evaluation tools
5. Baseline survey and end line evaluation reports (max 4 pages)
General description:
Radio Wa is interested in spreading awareness about MHM and the different methods that can be used to manage it, including menstrual cups. Radio Wa has not previously done radio programming in relation to MHM but has worked on general reproductive health issues/communication.
STF will provide inputs and feedback as they have done extensive radio programming on MHM and reproductive health, while they have not yet worked with MC programming. AFRIpads and Ecopads will provide inputs to the use of reusable sanitary pads as well as distribute samples.
WoMena will support with the design and implementation of the intervention, training of radio program staff and other aspects as detailed below. Approximately 15 female radio staff will receive a MC donated by WoMena's strategic partner Ruby Cup.
The intervention will be tailored to fit into Radio Wa's broader program design and implementation modalities, so that it can synergize on existing resources. Lessons learned from the first phase will feed into scale up of MHM/MC radio programming in Radio Wa partner programs (Gulu and Arua: "Radio Patches").
Collaboration partners:
1. Radio Wa
3. AFRIpads
4. Ecopads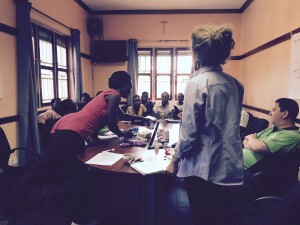 Both men and women are participating in the discussions on menstruation to create open spaces for talking positively about an otherwise sensitive topic for many Ugandans.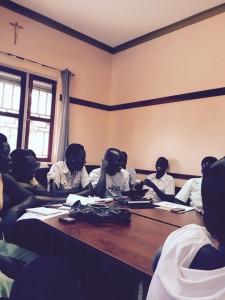 WoMena's volunteer Gertrude tells and demonstrates how to use a menstrual cup.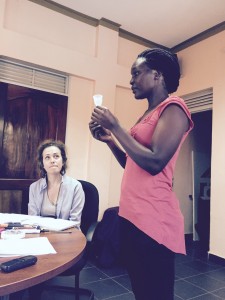 After the training Gertrude is interviewed by one of the Radio Wa staff on how to use the menstrual cup and her own personal experience with the menstrual cup.